Studio B is our brand new expansion. It features three unique environments, a green infinity wall, white cyclorama and black curtain. The green and white walls are permanently lit with Godox SL-60W 60W Bowens mount led video lights. We also have 2 Intellitech LiteCloth LT-160 lights on C stands for you to light your subjects with. We have a garage door for easy load in and load out. We have a makeup table for vanities and a clothing steamer for wardrobe. Craft services are also available for your shoot upon request. 
The rental cost for Studio B is $150 an hour with a two hour minimum and a $50 repaint fee per surface used. A 50% deposit is required at the time of booking. Due to the fact that the repaint process requires a couple of hours to dry we require clients to have hard wrap ups. Film crews and photogs must be out of the door by the end of your booked time. Going over your booked time will result in double fees per half-hour used. 
We understand that the filming process can be a long one and offer a day rate of $1500 for 12 hours plus your repaint fee. For shoots that last multiple days walkaways are possible. We are in a great neighborhood with a secure facility complete with alarm and insurance. Walkaways give you more time to shoot and less time setting up.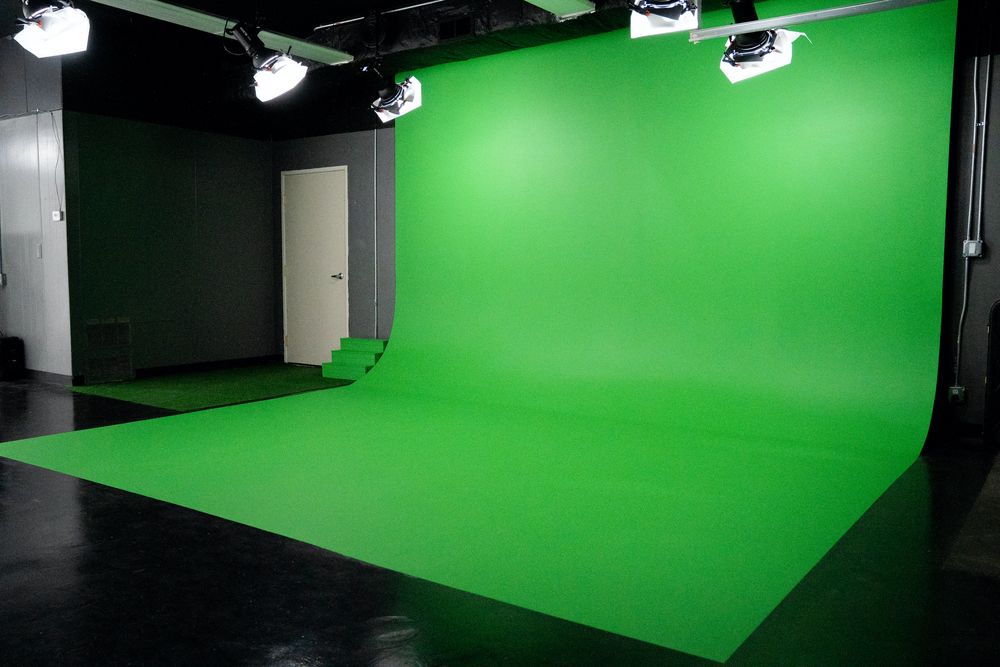 Our green infinity wall is 15 feet wide by 13 feet deep. It goes up 10 feet high so you have plenty of room to get that perfect shot. Stay tuned as we will be adding green treadmills and other goodies to the offerings.